ViCard is a mobile application for networking and a new way of electronically storing and transferring business cards. The service is designed to get rid of the usual paper cards and make contact exchange convenient, reliable, and secure. Contactless data exchange has become especially relevant in a pandemic – touching and transferring a paper carrier is eliminated, which means that the probability of contracting respiratory diseases is minimized.
What is the specialty of ViCard
Applications for exchanging virtual business cards have been created before, but ViCard is the first solution with the function of data transfer via NFC! The exchange of contacts takes no more than 5 seconds – just bring the devices close to each other, and the data is conveniently stored in the mobile application.
NFC (Near Field Communication) is a wireless high-frequency communication method that allows contactless data transfer from one device to another with a distance between them of up to 10 cm.
During the development process, we worked together with the Customer on the vision of the project and considered different implementation options, benefits for users and representatives of the business environment.
How the networking app was developed – read our case study.
Advantages of the service
Business cards are always in your cell phone – no more getting lost or creating clutter in your documents,
There's no need to spend money and other resources on printing your own business cards,
Your personal card is now always at your fingertips, too,
Business cards are transferable, but bacteria and germs are not 😉
Contactless data exchange is available even when there is no internet.
How it works
1. The user downloads the application and creates a business card
Immediately after registration, you can create your own card and start receiving business cards from other people. The obligatory condition is to fill in the column with the name, the rest of the information can be added later. This process is simplified as much as possible, so that if necessary a business card can be made and transmitted in less than a minute.
2. Exchanging business cards with other users
If the device of a new acquaintance does not support NFC, you can transfer data in other ways: reading a QR code or sharing a business card in messengers.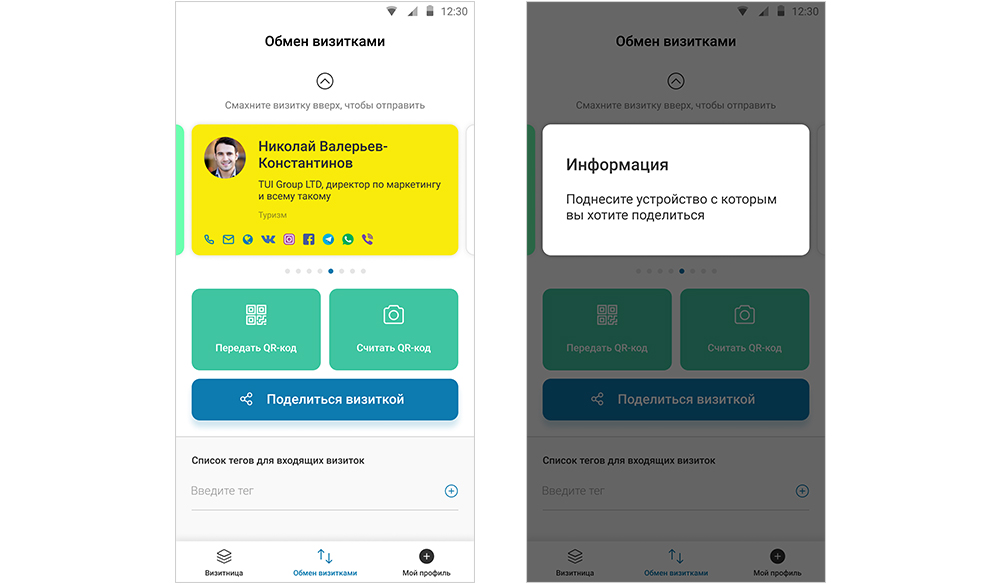 3. Stores business cards from other users
Business cards received from other people are stored in the Card holder. The appearance of the virtual card repeats the design of its paper counterpart – a rectangle with basic information about the person and his contacts.
4. Easily find business cards and view contact information
You can quickly find the contact you need with the help of advanced search by field of activity, date of addition, or tags.
Clicking on a card opens all the data that its owner has specified about himself: phone number, e-mail address, area of activity, links to pages in social networks and messengers. It is immediately clear what a person does and how to contact him or her.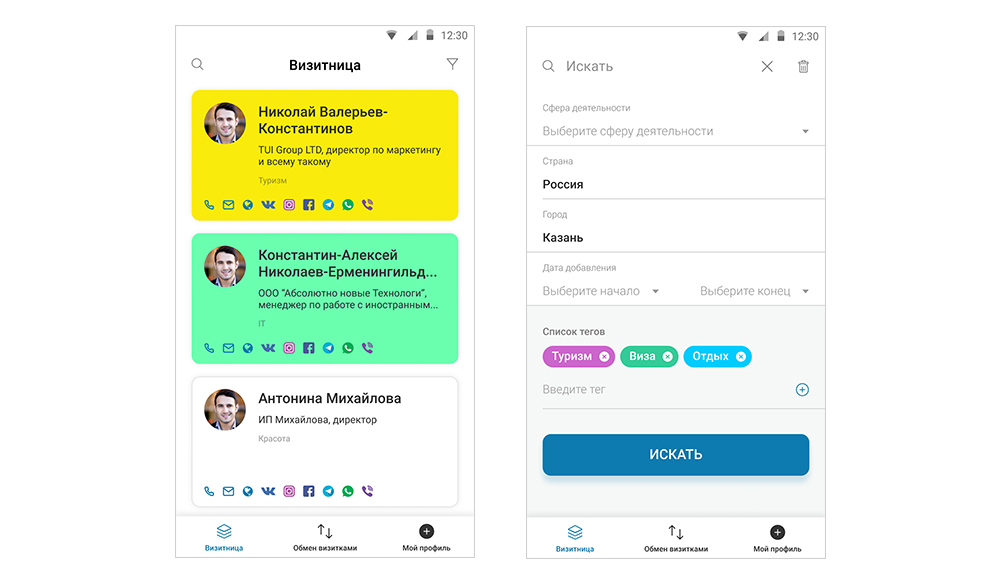 5. Leaves notes
You can add a comment to each business card that only the person who left it will see. This will make it easier to search and navigate in the Card holder.
6. Changes the appearance of the business card
For an electronic business card you can customize your corporate design: fonts, background and text colors, set an image. These settings are displayed at the bottom of the screen.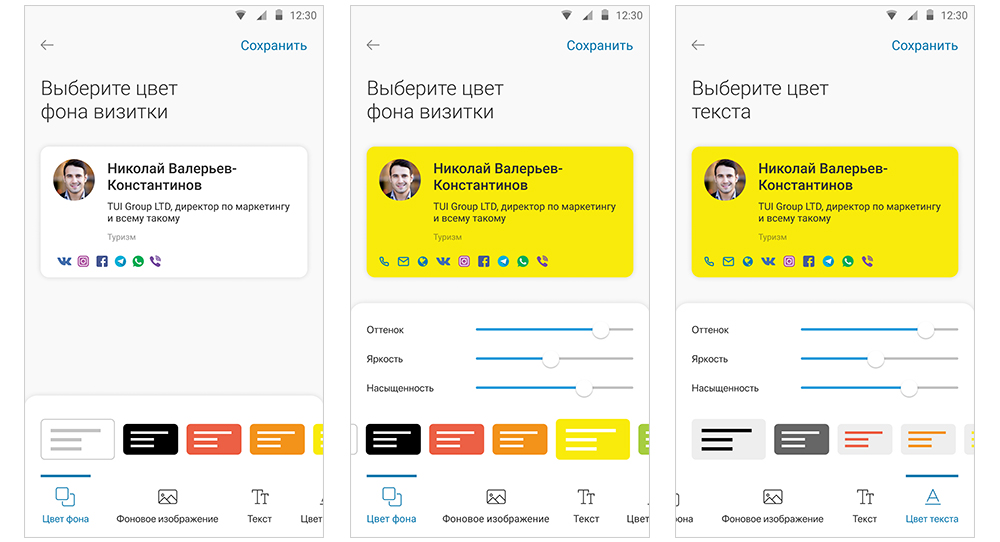 7. Creates more business cards
There is no limit to the number of business cards you can create: you can create separate cards for work, personal acquaintances, different fields of activity, or in different languages.
8. Transmits your business card even without an app
You can even send your business card to someone who does not have the app installed. The business card will open in the recipient's browser – they can save it manually or download the app in a couple of clicks.
ViCard use cases
1. Attending conferences, forums and other business events
Such events involve getting to know and communicating with a large number of people, and a networking application helps to simplify and optimize this process considerably. All business cards collected at the event can be saved by tagging them with a specific tag.
2. Make a presentation to the audience
Add your business card with a QR code to one of the slides so that interested parties can quickly save the data and contact you.
3. Casual meetings and acquaintances with people you are interested in
At such times, a paper business card may not be at hand, and the ViCard service allows you to solve the issue simply and quickly.
It is worth recognizing that paper business cards have become less common. It is inconvenient to carry them around, they do not hold all the information, it is difficult to remember where you saved your business card at the right moment, not to mention the fact that you can somehow systematize your contact database. A networking app solves these problems, helping us to use modern technologies for our convenience.
One more interesting case study for you: Online service for birth chart and calculation.