Loyalty systems are usually associated with plastic cards, which give a discount on repeat purchases. However, no one wants to carry around a pile of plastic. And a shop that offers cards to customers is considered old-fashioned. We have been storing all important data on our smartphones for a long time now. How can you make life easier for the consumer and benefit your business? A loyalty system in a mobile app can help.
The loyalty program offers great benefits not only to customers but also to retailers. It will help:
Analyze the target audience in detail.
Quickly inform customers about promotions and discounts.
Test new marketing tools.
Quickly implement functionality and design changes without major costs.
Increase sales by offering additional services.
Motivate customers to make more purchases via their smartphones.
What can a loyalty system in a mobile app do?
Its main task is to motivate customers to make repeat purchases. This can be done through a variety of actions. For example, giving a discount on a certain group of products or an additional service.

To make these actions more effective, the loyalty program uses 3 important components:
1. Member identification and customer profile
When you enroll as a loyalty program member you will find out his personal details: name, telephone number, e-mail, place of residence, and date of birth. This will help in:
Creation of targeted offer.
Improve the overall customer loyalty strategy.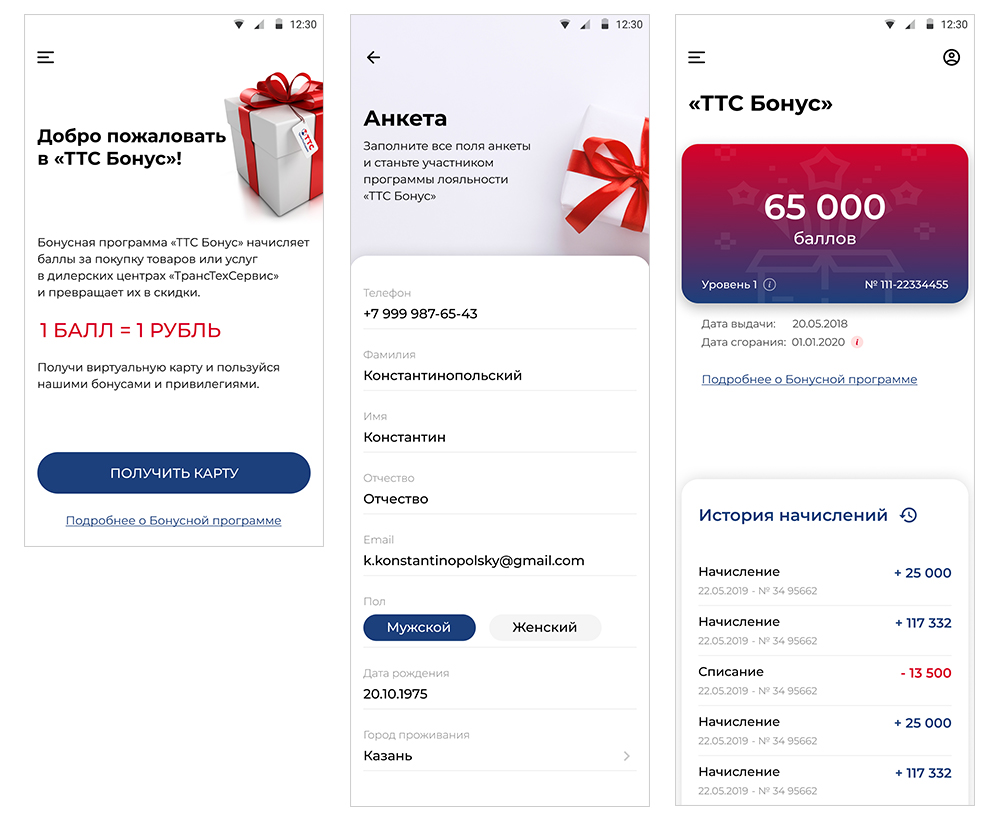 Note: getting to know the customer gradually
In any business, the image of the consumer is very important. The more information you collect about the user, the more detailed they will be. But it is important to obtain this data gradually, so as not to scare off the customer. How can you do this?
Offer the customer a bonus for completing additional data. For example: "Want more gifts? Enter your date of birth!" or "Write an email and we'll send you a surprise! You can also give bonuses for completing the form.
2. Statistics
Once you have identified and profiled your customer, data analysis comes into play. This is needed to describe all customers or a specific segment of the audience. Statistics will help to know:
The most interesting product categories.
Average bill of the user.
Frequency of purchases.
Convenient delivery time and other details of purchase.
Continuity is a big plus in collecting statistics, which the loyalty system in the app opens up. Customer activity can be tracked day and night. This is necessary for the next step – classification.
3. Classification
We have analyzed customer behavior, now it is important to divide users according to criteria. These can be set independently in the loyalty program. A division by gender, age, place of residence, and marital status is possible.
To differentiate by the volume of purchases you can use the statuses: "bronze", "silver", and "gold". VIP status is even more tempting. Statuses are not only visible to you, but also to customers. They motivate users to make more frequent purchases.
More complex variants of audience segmentation are possible: according to purchased goods, frequency of purchases, and different combinations of criteria, for example, girls from 25 to 45 years old, who have purchased goods of a certain category. The more detailed the classification, the more individual your offer will be. And it is, in turn, more likely to resonate with users.
Types of loyalty systems in mobile apps
Different reward formats are a distinct advantage that a loyalty system in a mobile app has. We analyze user behavior and set up the format that best suits the user. Cards usually assume one universal option.
Discounts and rewards program
The mobile app allows you to keep track of discounts, purchase history, and accumulated points.
What are the benefits for the retailer?
Managing the size of the discount or the number of points you earn. This way you stimulate the sale of certain products.
You will be selected among your competitors. It is easier to order sushi where the fifth order will be free due to the points.
With each bonus received, customer loyalty will be higher and they will come back again.
Bonuses are usually awarded for a purchase. But you can also give them out for other user actions:
Subscribing to the company's social media accounts.
Testimonials and testimonials.
The consumer picks up the product himself from the pick-up point.
We rewarded our partners for attracting new clients. Our goal was to increase the number of applications from partners and to make the process more controllable. We needed a tool to motivate them. We decided to develop an application with the following logic: the more clients we attracted, the higher the percentage of the remuneration paid. We have made the point system a staggered one, which makes it more effective.
Intangible pleasures for customers
Discounts and cashback are good for consumers. But for businesses, it means missing out on profits. In order to benefit and retain customer interest, non-monetary incentives can be used.
For example, by using the mobile app regularly, the customer will be able to:
Return an item without a receipt.
Get free shipping or an extended warranty.
Receive gifts and more.
Push notifications are another marketing tool for loyalty programs
They are designed to actively engage with your audience and can be used to:
Communicate shop discounts and promotions. Customers are unlikely to follow them manually.
Promote a specific group of products.
Remind the customer about forgotten carts and unfinished purchases. This will help increase the conversion rate.
The text of push notifications can be anything you like. You can change it at any time in the admin area.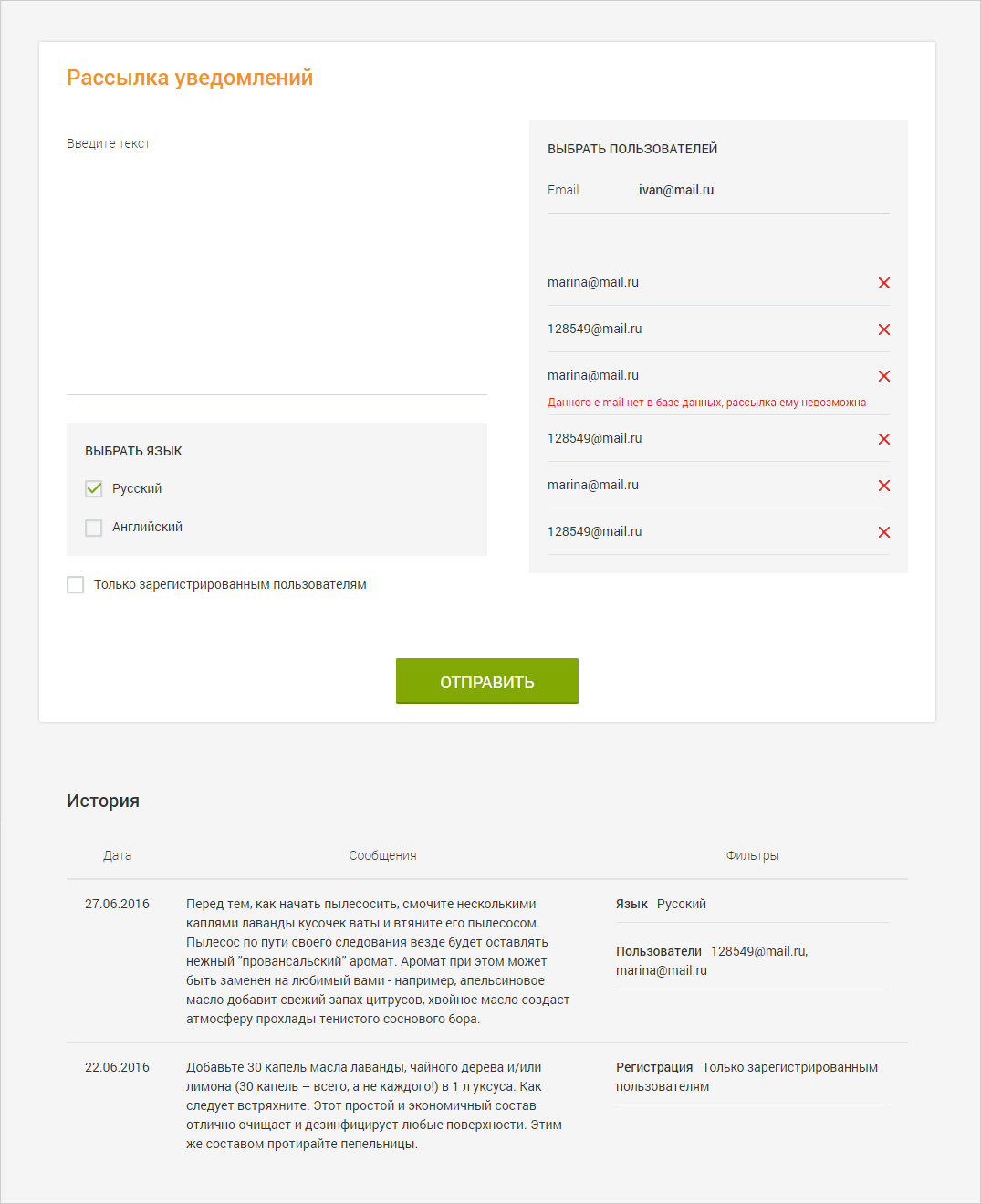 You can also select users according to different criteria. For example, some customers have accumulated a lot of points. Let them know and motivate them to buy.
How to make your own loyalty system in a mobile app
So, now you know, to design an effective loyalty program you need to:
Obtain customer data,
Collect statistics on user actions,
Classify your customers in order to personalize your offers as much as possible.
Then choose the format that will be most effective in your case (discounts, bonuses, mailings, intangible rewards, or a combination of several options). And wrap it all up in a quality technical solution.
Choosing a technical solution
Depending on the type of loyalty program you choose, your goals, and your business plans, you can choose from the following options:
Using an off-the-shelf solution
Off-the-shelf loyalty scheme programs exist which offer access to features with a monthly fee. Typically, such programs already have a set of standard mechanisms: points or discount program, mailing list implementation, and viewing of statistics.
The advantage of such a loyalty system would be a quick start-up with low financial costs. The disadvantage is the limited possibilities of the chosen service, you can't influence the functionality, and all data will be stored on the side.
If you need to test your loyalty program and decide on the functionality, this option is fine.
The next solution is for those who want a more personal approach.
A personalized loyalty system in the app
Standard solutions don't always allow for the introduction and use of new features. An in-house loyalty system, on the other hand, allows you to react more quickly to changes in the market. It helps companies to differentiate themselves from competitors and offers new solutions.
You can integrate it with your existing CRM system, or you can start with the loyalty program and extend its functionality to automate and account for all marketing data.
Pros: you can offer a truly personal touch, collect the data you need and set up reports to help you make decisions. Cons: Development time and budget will be higher.
Summary: Why do you need a loyalty scheme in a mobile app?
A loyalty program in a mobile app gives businesses more options than a regular plastic card. You can create ad hoc promotions, without long planning and waiting for cards to be issued.
A mobile app allows you to gather more information about your customers and segment them in an orderly way for future personalized offers.
In addition to one-off discounts, you can use cashback and cumulative points. And as an extension, you can extend the mobile app + loyalty program by adding useful services. For example, newsfeed and status of applications.
To design a loyalty program in a mobile app, you need to rely on maximum personalization. It is also important to choose the right technical solution.