We have been building web and mobile apps for many years and have encountered all kinds of situations in the development process. Today we want to review the key stages of selection and requirements for the team that will implement your idea.
From time to time we get customers who have previously worked with other contractors, spent large sums of money and their time, but still have not achieved the desired result. There are several criteria by which to evaluate a future application development team. By following these simple rules, you can avoid the classic mistakes.
When freelancers are appropriate
If your goal is a simple, typical project like a landing page, a blog, an informational one-page website, or a simple online store, the services of freelancers will come in handy. Set a strict deadline, determine a price that is interesting to both sides – there is a high probability that you will get an adequate solution to your task.
Important point: starting to work with freelancers, "test" them on a test project, start with small and uncomplicated tasks. Look for performers by recommendation.
When to look for a web agency
You should turn to the agency when you need something more complex and unique, with an emphasis on high-quality implementation. It is important to understand that development involves analytics, design, testing, and other nuances, and can drag on for months. In order to work in such a mode, each member of the team must know their duties clearly, be aware of their responsibilities, and not "disappear" for an indefinite period. This can only be guaranteed by working with an agency.
Getting ready to look for a team of professionals
Before you start searching for developers, you need to:
Set clear goals and define the scope of the project. You must understand what result you want to get at the end of the work. Ideally, you should prepare a list of examples, references to interesting projects.
Decide what steps the user will take when he comes across your service. There is no need to get carried away here, as drawing up detailed TOR is the task of the future contractor. But it is important to select the basic functionality that you want to include in the product. This will help both potential customers in the evaluation, and you to understand which cases are worth paying attention to.
Find and study the works of your competitors – it helps to make the right development strategy.
Collect recommendations from colleagues and friends, contact potential contractors, and make a list of the options you like best.
Choose a development team: a step-by-step plan
1. Start by examining the team's portfolio
First of all, assess the expertise. See if the team has done similar solutions or projects of similar complexity. Pay attention to the comprehensibility of the logic of work and usability in the implemented cases.
2. Ask for contacts of previous customers
Every experienced team has a client base. If the guys are proud of their previous work, they will gladly share those contacts. After contacting past clients, ask about the reliability of the chosen team, the timing of the tasks, and the quality of the results.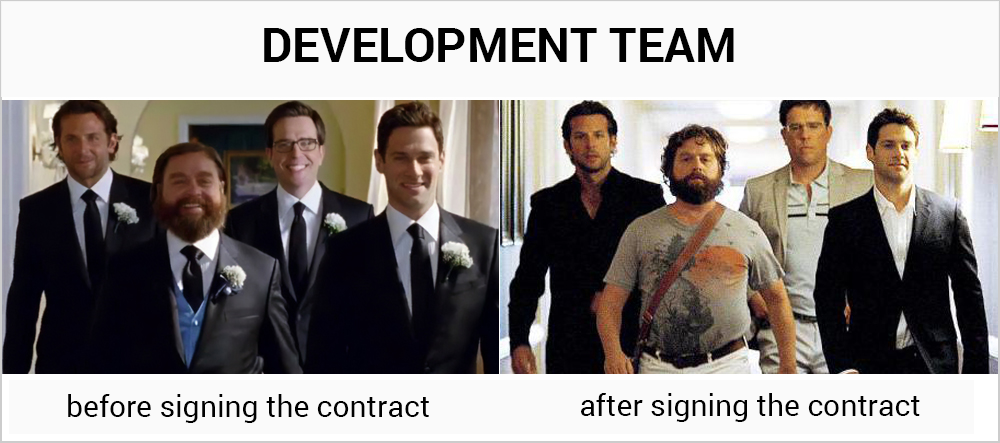 3. Evaluate the team's website
Pay attention to the usability, and design. If there are links to social networks, we recommend looking at these pages as well. Here you can "spy" the vision, communication style, and values of the team.
4. Evaluate the time it takes for experts to respond to your emails and messages
The speed of the answer is an important factor that determines the comfort of working with the team in the future. Agree that if you ask a question and get an answer a couple of days later, it can affect the effectiveness of communication. And also on the overall timing of project development.
When choosing a development team you should understand that you are not just looking for a task contractor, but for a reliable partner who will take responsibility for the creation of your product and whom you will trust.
Do you want to try working with us? Send an application and get a preliminary estimate of your task within 3 days.
Remember: when you choose a team, you determine the future of your project.